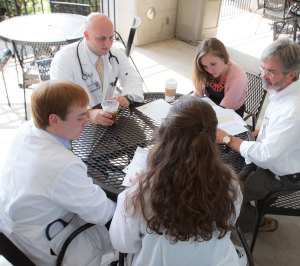 The Self Regional Healthcare Family Medicine Residency Program in Greenwood, S.C. is a community based program focusing on developing quality family physicians while providing outstanding patient care. All faculty members are board certified in their specialty and hold faculty appointments at the Medical University of South Carolina. This allows utilization of university resources while still maintaining a small hospital feel.
As the only residency program in the area, the residents enjoy frequent one-on-one teaching, and have earned the respect of the medical staff, nursing personnel, and the local community.
The family medicine, pediatric, and OB faculty provide over 90 percent of the direct teaching, ensuring learning based on family medicine principles. Their varied clinical experiences maintain the commitment of a well-rounded education. The diversity of the patient base provides broad clinical opportunities for learning.